As you start creating a Google account that you will be using to manage Google products, it can be easy to end up using multiple Gmail addresses. This is a common problem. Why? Usually the task is delegated to social media manager, outside agency, or cousin Bob.
The problem that presents itself is that it becomes almost a job unto itself to sort out what account owns what Google Plus page, YouTube account, or any other connected Google services.
So, we present you with a simple solution, even if you are in the middle of fixing a complete mess of Google accounts and logins.
Click this link to create a google account using your current email (as opposed to creating a new gmail account at the same time).
https://accounts.google.com/SignUpWithoutGmail?dsh=4406348233880683964&continue=https%3A%2F%2Fwww.google.ca%2F%3Fgws_rd%3Dssl&hl=en#FirstName=&LastName=
If you are having issues finding out who owns your Google Plus or YouTube account, here is a handy walk through on fixing that problem.
When you are first setting up your Google My Business presence you may be faced with duplicate Google Plus pages, multiple Gmail accounts, not knowing who the page owner is and a bevy of other issues. Luckily, most of the problems are solvable.
Pro Tip: Create an email address with your company domain name first, such as marketing@yourcompany.com or google@yourcompany.com. The distinct advantage here is that you will always be able to control access to this email account and reset the password if necessary. Also, the email and username on the Google account can be updated!
Important: We are not Google Support and do not offer services to help you with Google Email Setup. If you need social media marketing or SEO services, however, we can help!
This step-by-step walkthrough will show you exactly how to use your company email address (the marketing@yourcompany.com email we recommended you set up before or another domain of your choosing) to create a Google Account.
1. Open Google.com and click the blue Sign in button at top right of your screen. If you are already signed in, log out first and then click the Sign inbutton.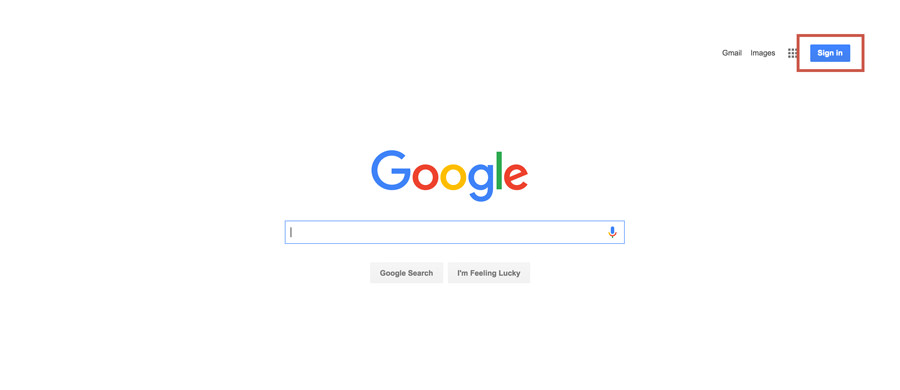 2. Next click the Create account link below the sign in box for a new Google Account sign up form.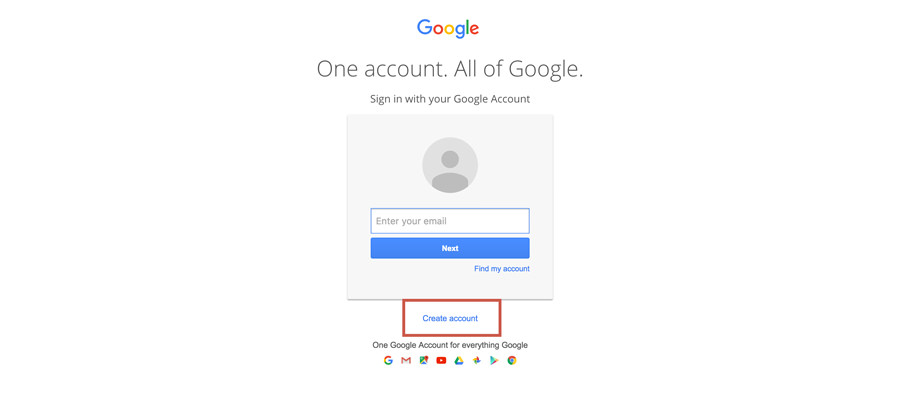 3. Fill in your First and Last Name in the appropriate fields.
4. Under the "Choose your username" box is a link that says "I prefer to use my current email address" which, when clicked, will allow you to use your alternate email address. Click that link.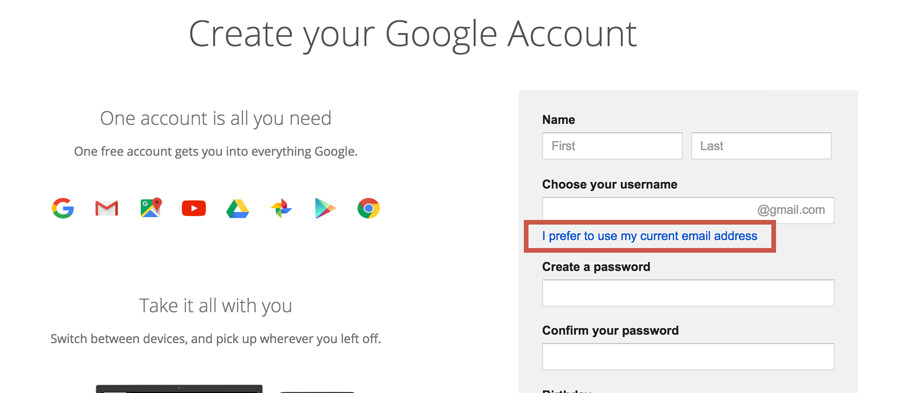 5. Then you can enter your current (non-Gmail) email address in the box.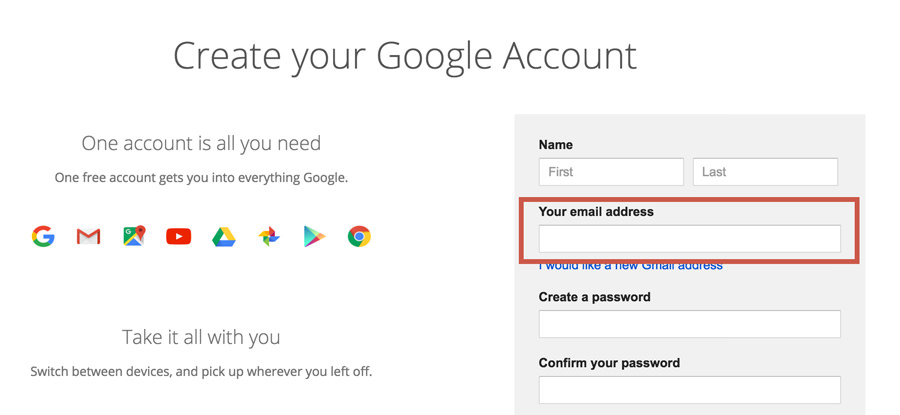 6. You can then continue filling out the rest of the form, which is pretty standard and doesn't require any special steps:
Create and confirm a password
Enter your birthdate
Select your gender
Add your mobile phone number (for security)
Choose your geographic locations
Once you've filled out all the fields you can click the Next step button. You'll then be asked to confirm that you agree with Google's Privacy and Terms. Once you've done that you'll just need to confirm your account by following the instructions sent to your email address that you gave.
And that's it! You've officially set up a company Google account with your own domain name.
Some Considerations When Creating a Google Business Account
Important: We are not Google Support and do not offer services to help you with Google Email Setup. If you need social media marketing or SEO services, however, we can help!
Below are some helpful tips and recommendations that have proven to be of significant value in making account management easier and more "fool proof".
1. Google+ Profile names policy requires the profile will represent you as an individual. The profile does not have to use your full legal name or company name. It can be your first name and last initial, for instance it could be SD G(representing Steady Demand Google). If you use a company name, you could face the account getting suspended.
2. Hide the account from search by changing the settings so that the profile doesn't appear in Google's search results. You'll definitely want to do this if the account will not be active as a Google+ profile.
3. Enter your actual birthdate, rather than your company's creation date. You don't want your account to be restricted because your business isn't 18-21 years old! (Unless you company is more than 21 years old.)
4. Setup account recovery options, and then add a mobile phone number as bonuses for security and future recovery assistance.
How To Delegate Team Members To A Google+ Page
As a business owner, there is an easy way how to you make sure you maintain the ownership of your Google+ Page (and YouTube channel) without having to manage them all by yourself.
If you are going to have an employee, agency or social media manager post content, moderate comments, or do anything else with your Google+ presence then what you should do is add their own Google+ Profile as a manager of your Google+ Page.
Only you, as the page owner, will be able to add/remove managers or delete the Google+ Page and YouTube channel. Your manager can do everything else.
Pro Tip: You can add up to 50 page managers that have the ability to edit your profile, post videos to YouTube, or run a Hangout on Air. Or you can add a "communications manager" that can only make posts on Google+ and moderate and reply to comments, and have limited abilities on YouTube. Find out more about manager roles here.
So to recap, you setup a Google Account without a gmail address by:
Open Google.com and click Sign in
Enter your name
Click "I prefer to use my current email address"
Enter your current email address
Create and confirm a password
Select your gender
Add a mobile phone number
Enter you birthday
Choose your location
If you have any questions about follower growth or Google+ engagement, or your Google Account setup, get in touch with us and we will help!